Like most bumpersticker wisdom, it falls far short in practically every way.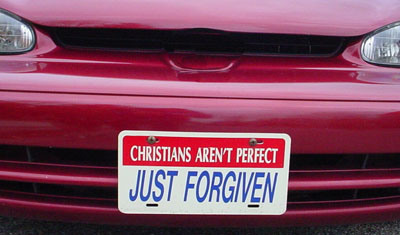 Even people of the faith vary on what that means. To some, it's an acknowledgement that, yes, we will sometimes fall spectacularly short. It's a statement that we, like all other people, are bound by weaknesses and selfishness, and yes, even hypocrisy.
Some of our critics would agree on the hypocrisy part. But though they may not say it this way, their complaint about this concept is the complacency. I've got Jesus, so I can do whatever I want to you. I have license for being a bastard because I don't have to be perfect. My grace covers whatever horrible thing I might decide to do to you.
The truth is infinitely more complicated. For instance, take me. I'm a hypocrite. In some places, I'm actively struggling to overcome that hypocrisy. And in some places, I'm woefully complacent. It's hard to do better than that.
And yet, the charge that comes with the bumpersticker truth calls for us to do the hard thing. The message this weekend at our church is from the book of Philippians, known to theologians as the letter of joy. But some of the concepts in that letter are anything but joyful.
We spent a little time today on verse 1:29, where Paul says that we have the privilege of trusting in Jesus, but also the privilege of suffering for him. This concept can be easily misunderstood. It doesn't mean putting on the hairshirt and metaphorically flaying ourselves because we're awful. If Jesus gave up his godhood to come down and save us, then we're off value–all of us. Even the gays and the AY-rabs and that guy at work we don't get along with.
In this country, right now, very few people are suffering for Jesus. Sure someone considered us all morons because Starbucks used a red coffee cup last year, but honestly, if that's the worst thing someone does to you, it's been a damn fine life.
So if we don't have it bad and we're valued enough that Jesus suffered for us, what's all this suffering stuff.
It's about the gays and the Ay-rabs. It's about that guy you can't stand at work–something I have right now. It's about the guy who just stopped dead in the road while you rushed home, trying not to pee yourself on the way. It's about that former spouse or the parent or child with whom your relationship is strained. (For the record, this is not a call to invite or weather abuse because Jesus would want it.)
It's about being bold and courageous.
It's about love. Because in love, there's an immense amount of trust, but it's also about risk and pain. When you love without regard to your target's ability to pay you back, you open yourself up to that trust and that suffering.
And that's okay. We're forgiven. We can afford to take those chances.
I, for one, hope I can find the courage to take more of them.