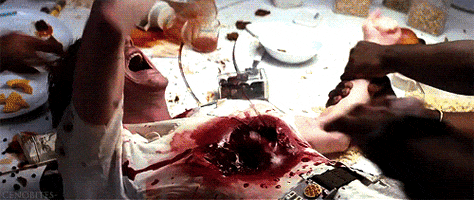 When my kids were kids, it seemed as if life was a never-ending series of children's activities, all of which required us to drive them there. Scouts, synchro, baseball, and all the other stuff. A typical week consisted of work plus activities at least Monday through Thursday. Then the weekends involved baseball or synchro meets or both. It was exhausting and I showed a lot less patience for it than I should have.
This week, my daughter posted a link to her thesis presentation. It starts at about 9:15 in the video posted below.
You can't watch this video and not be impressed. The blonde woman making the presentation studied for hours, basing part of her presentation on time she spent studying in South Africa–a different continent in a different hemisphere. By her age, I'd been to Montreal and Florida.
But the preparation for that video really started back in sixth grade. She'd do homework most nights until up long past our bedtime, requiring me (of course) to go out of  my way (har-RUMPH!) and drive her to school so she could get that extra hour of sleep in the morning. (Both of my children chose schools halfway to Miami from middle school on.)
I don't see the woman doing that presentation as the little girl I once tickled and played 'Got your nose' with. She's an accomplished young woman with any future she wants. I view her as at least an equal in terms of poise and intelligence. And as someone whose commitment to hard work is amazing.
It's quite a thing when you're inspired by your own children.
If I could go back to counsel my younger self, I'd tell him to relax. It's a hell of a lot of work and I get how tired he is. And he gets to be tired, and cranky, and sometimes resentful. But he also doesn't know what I know, which is how it turns out.
"Trust me," I'd tell him. "Your work might feel thankless and unappreciated, but it'll pay off in ways you can't even begin to imagine."
I try to use words as tools, but there almost aren't words to describe the richness of watching a fellow adult, someone you deeply respect, accomplishing what Jennifer Hamilton did in preparing for that presentation for the last eleven years.