A month ago, Buzzfeed actually published news–ironically, an expose of a false-news set of stories aimed at perpetrating the supposed story that then candidate Hillary Clinton, among many Washington insiders, was part of a child-sex and human trafficking ring. The stories were ridiculous–only slightly more believable than the old Bat Boy stories they used to run in the Weekly World News.
At one point, the story dropped to Bat Boy level, showing a raid on Hillary's property that resulted in the confiscation of damning emails…which were taken out of said property in, well, paper bags. (The police should be careful, though, because carrying all those emails without proper back support could result in severe injury.)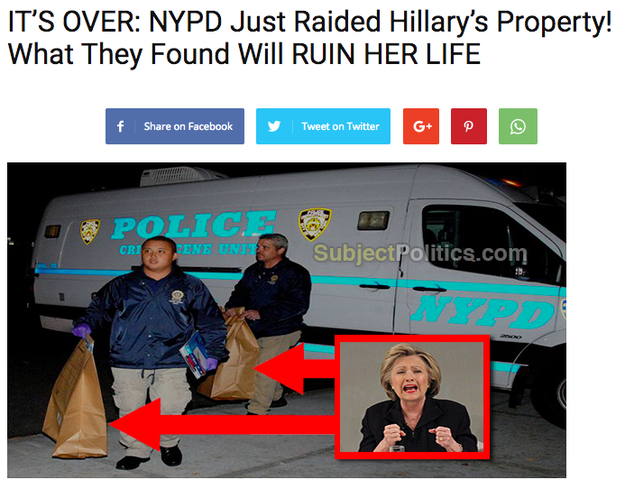 These articles gained legs in spite of the fact that not a single member of any law enforcement agency anywhere had confirmed any part of the story. As a result, a gun-toting man decided to show up–toting the gun–to do some investigating of his own at Comet Ping Pong, a pizzeria in Northwest DC. With a gun. Because the best way to investigate is to wave a gun in everyone's face.
Let's stop here for a moment. Considering the fact that people have actively despised Hillary Clinton for almost a quarter century, if she and Anthony Weiner (proud SUNY Plattsburgh graduate, doncha know?) were involved in a giant ring to have sex with and sell children, don't you think someone would've leaked that along the way? Don't you think someplace, a law enforcement agency would've been maybe involved, even just a little?
There are other stories, too. This opinion piece in Newsweek recounts how much actual news people ignored to believe that the Democratic National Committee conspired to fix the election for Secretary Clinton. For instance, they ignored the fact that once Hillary became the presumptive nominee–in May–the job of the DNC is to help get her elected. Which is what the Sanders people accused it of doing.
It's funny, but then Bernie Sanders' folks claimed the election was being rigged, that wasn't horrible. It was for Donald Trump.
That said, Trump is the candidate whose minion, Roger Stone, threatened to publish the convention hotel rooms of delegates who didn't vote right. Stone didn't work directly for Trump at the time, but Trump said nothing to guide Stone to the idea that winning elections through hardcore intimidation is, you know, un-American.
But let's take Trump out of it. Let's say President X lacks scruples. Let's say, for instance, that after the Nevada caucus, his followers thought he fix was in and started threatening the Nevada state party chair–and her grandchildren. And he says nothing to tell them we don't do it that way in this country. Let's say that guy is President.
If that guy can ride a predictable and–based on the Buzzfeed story–very small group of Twitter users and blogs to threaten an enemy. if that President were to decide to ask supporters to plant a false story that a specific business is ground zero for (dun, dun, dunnnn) evil(!), that would be a pretty effective way to silence opponents.
As many have seen, once social media judgement is made, you can't unring that bell.
This isn't an assertion that President-elect Trump or Senator Bernie Sanders, who supporters threatened the Nevada State Party chair's grandchildren–have done this.
But if it only takes a few Twitter followers and then some coordinated blog posts, and if people don't bother to check with law enforcement before coming to judgement, how hard is it to resist using that machine to break your enemy?
As consumers of news, we have the responsibility to check news stories to make sure they pass the sniff test. If there are raids going on, are there actual statements from the police? Have you even heard of the source? Does it have a sketchy name like Global Associated News? (Seriously, this guy is more believable.)
Peoples' lives are ruined by crap like this. And it's going to get worse. Because if you cross the people with the keys to this machine, you're toast.
That's a real nice little life you got there. It would be a shame if something were to happen to it…